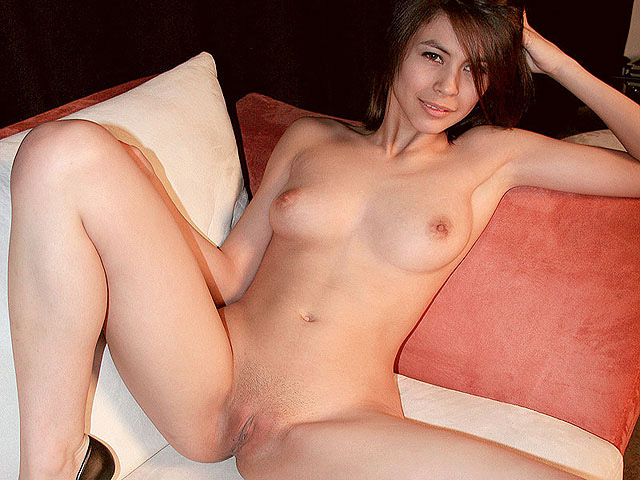 Ya gotta hand it to the Loser. He finds some good ones. This time, we have Heather Anne, an 18-year-old brunette from Las Vegas who tells us, "I used to work at a strip club." Say what? Used to when? She's only 18, for goodness sakes! After the Loser smartly decides not to take that line of questioning any further, Heather reveals that she stopped stripping because she couldn't dance. But, as you're about to see, she can definitely fuck. Our favorite part of this video is when Heather is blowing the Loser's cock and her hair starts getting in the way. She kindly asks, "Could you pull my hair back?" knowing that with her hair in the way, we can't see the dick going in and out of her mouth. Obviously, Heather knows what she's doing. As cute, little pieces of ass go, Heather's right at the top of our list. Five-foot-three but long legs, 105 pounds, 34-24-32, tight little body, B-cup tits. Hey, she's only 18. She's in mint condition! So, after the Loser reminds Heather that she should be nervous, and after Heather tells us that her father, of all people, knows what she's doing, the sucking and fucking starts, and it's definitely worth a jack. And by the way, Heather Anne, honey? You don't have to know how to dance to be a stripper.
More Amateurs »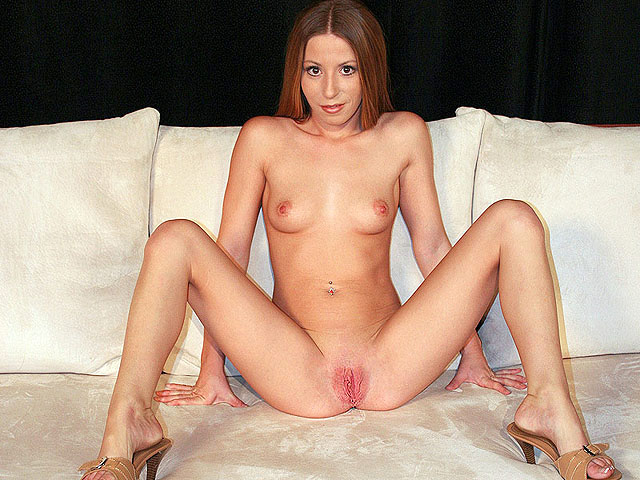 Lexi is a little one: five-feet, 106 pounds, 32-24-32, B-cup tits. She's a dirty blonde, and we mean that literally and figuratively. Lexi isn't much of a talker. At first, she seems shy... reserved. But then she starts working on the Loser's cock and makes slurping noises. And the harder and faster she sucks, the more noise she makes, and before long, she's licking up and down his shaft and sucking even harder. You know how the Loser sometimes takes his time getting hard? Not this time. He's hard in a hurry, and for good reason. Lexi simply doesn't take "soft cock" for an answer. Slurp-slurp-gargle-gargle-slurp-lick-gargle. Very enjoyable. The fucking in this scene is great. At least what you're seeing of it is great. Unfortunately, more than half of the footage ended up on the cutting-room floor because of bad lightning and the Loser's usual shaky camera work. Lexi gets her first pro dicking and the Loser cums on her face, but we're here to tell you that as videography goes, this was anything but HD. Still, there's enough here to get the job done.
More Amateurs »
Top-Rated Amateur Videos
The Loser spends the first portion of this scene trying to convince Chelsie that she should be nervous and that everyone she's ever known in her entire life is going to find out about this. He seems to be trying to talk her out of doing the scene, which is amazing considering she's one hot piece of ass--beautiful face, tight body, blonde hair, green eyes-and he paid her only $800. Yeah, you read that right! $800! A chick like Chelsie should've added a few zeroes onto that to let a guy like the Loser fuck her. "What makes you think you can do this?" the Loser asks her. What makes the Loser think he can do this when we have hard proof that he can't? So, after the Loser fails to convince Chelsie that she shouldn't take the money and shouldn't do the scene, she gets down on her knees and gives him a very enthusiastic blow job. And the rest is history. As the scene continues and the Loser manages to pound Chelsie with his reasonably hard cock, we are left to ponder the big questions of life: What won't some chicks do to get into porn? How lucky are we to live in a world in which hot chicks will let total losers fuck them? And, isn't the pussy a wonderful thing? Loser finishes fucking her and cums on Chelsie's face. All for $800. Bargain.
More Amateurs »
A little over a minute into this video, Gem takes off her top and skirt, revealing a super-tight, super-curvy body in a black bra and sexy matching panties. At this point, a normal man would express some admiration for Gem--or as the Loser always refers to it, "what we're working with here." But not the Loser, who doesn't say a word, leaving Gem to stand there awkwardly, waiting for some glimmer of approval. Finally, when Gem has all of her clothes off, the Loser says, "Awesome. Great body. Very hot." But it seems like too little, too late, especially for a hot piece of ass like Gem. A few basic facts about Gem. She's from England. She's 21 years old. This is her first scene. She's 165 centimeters tall and weights 54 kilos. That's 5'4", 119 pounds for those of you in the United States side of the pond. She's a little girl, but she apparently has a big mouth because she practically throats the Loser, which might not be saying much but is definitely saying something. A nice added touch is how Gem sucks the Loser's rod through his boxers. This girl definitely has a future. The Loser clearly has no future as a porn director or videographer, as this scene clearly proves. He sets back the art of P.O.V. Videography two-dozen years with some camera work that takes us right out of the action or too close to the action. But, as usual, there's enough here to keep us jacking. The blow job scene. The way Gem looks at the camera. Her shaved pussy, which really deserves better. But, hey, this is amateur stuff, right? And if we wanted pro-amateur porn, there's plenty of that out there. So, the Loser gets the job done, the girl gets laid and has a scene to add to her resume and we get off. So who's complaining?
More Amateurs »